About Us
Your Kansas hunting experience will take place in Washington County in North Central Kansas. We offer Kansas trophy whitetail deer and Kansas spring turkey hunts. Our goal at Blue River Whitetails is to give you an opportunity to take home a Kansas trophy whitetail or turkey at a fair price. We have Kansas hunting at it's best.
We have leased thousands of privately owned acres of prime deer and turkey habitat for Kansas hunting. Our Kansas land consists of creek and river bottoms, rolling hills,...
Read More
Deer & Turkey Hunts
Kansas Deer & Turkey Hunting: The formula for Kansas trophy deer and turkey is simple. It all begins with good genetics and great
Read More
Latest News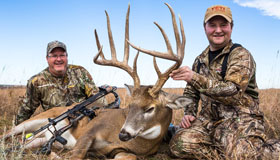 We are booking our Kansas whitetail deer hunts for 2018.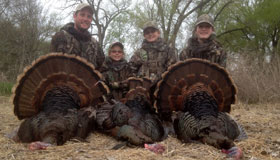 We are booking our Kansas Spring turkey hunts for 2018.
Features
On the Cusp of the Late Rut - In northcentral Kansas, David Schotte at Blue River Whitetails has a full slate of hunters booked for the gun season that runs December 3 to 14, and he's seeing a bit more midday movement that he attributes to the current bright moon. He notes that the secondary rut, while never as strong as the primary rut, usually coincides with the second week of the Kansas gun season.

(2011, October). Whitetail Handbook. Field & Stream
(2009, August). Opening Day. Field & Stream
(2008, October). Whitetail Handbook. Field & Stream
(2008, February). Trophy Whitetails Forever, Part 2. North American Whitetail
(2007-08, December-January). Whitetail, Seek and Sneak. Field & Stream

Blue River Whitetails can been seen on Drury Outdoors videos such as "The Plot Thickens". Jason Irish makes a 140-yard muzzlelaoder shot with open sights, on a 135" 9-point buck. If you like turkey hunting, you must watch Drury Outdoors video "Longbeard Madness 7 & 8", "Longbeard Madness 9 & 10" , "Longbeard Madness 11". To catch a little predator hunting watch" Predator Madness".